Visit to Timor Leste
Sisters Magdalene Machado, Provincial Superior of Vadodara, Felicia Pereira, Provincial Superior of Pune and I visited our new mission in Timor Leste from 5th November to 11th November 2014. This mission began on 2nd February 2012 with Srs Selma D'Souza and Mary Francis as the Pioneers.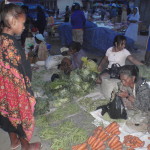 The Country is God's land with mountains on one side and sea on the other side. One can sense the presence of God in its beauty and in the people who are the anawim of God. Whenever they meet the Sisters whom they call 'Madre', they greet them with warmth and affection.
Our four Sisters do whatever they can. Sr. Selma teaches in the Secondary school of the Jesuits and she is involved in preparing the course for Teacher's Training College. Sr. Mary works in the school office and also with the JSS….. visiting families etc. Sr. Eliza is the nurse and is involved in the health service. We have two candidates who wish to enter and Sr. Martha who has much experience in formation is accompanying them. There is much to be done but we do what we can.
We have bought a plot at Kasait close to the school where we would like to have our convent soon. On 3rd December 2014, our Sisters had a ground breaking ceremony by Fr. Eric SJ the director of JSS. Pray for God's blessings on our mission.
Blessings during this season of Advent,
Irene RJM