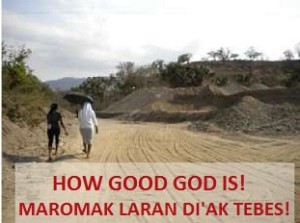 2nd February 2013! Its two years today since the Religious of Jesus and Mary set foot on this sacred land of Timor Leste!
All that we've experienced through each day in the country on fire not just because it's 8 degrees away from the Equator but because our God truly alive and active in His people is GOODNESS personified!
"All the things in this world are gifts from God, Presented to us so that we can know God more easilyand make a return of love more readily." The First Principle and Foundation (St. Ignatius of Loyola, as paraphrased by David L. Fleming, S.J.)
Indeed God has been generous… What more could we ask for or dream of…. with our two young Timorese Candidates Amelia Duarte Soares and Maria do Carmo Soriano who today enter into Postulancy!
What more can we ask for or dream of …. Than with our convent slowly casting its silhouette on the Timor skies … The basic structure is now almost completed on a piece of land in the heart of the people….
What more can we ask for or dream of… Than with an apostolate in the form of social work projects for Women and children and the health center and education that is slowly taking shape … according to the eternal plan of our God…. With… Of… For…the little ones- those truly close to the heart of Christ!
In the midst of all the uncertainties and doubts that are a part of any new beginnings…. But the words of our beloved Pope Francis "Wake up the world! Be witnesses of a different way of doing things, of acting, of living!" (November 2013) give renewed hope!
And so dear sisters, and friends of Jesus and Mary as we celebrate our family feast… the feast of our beloved St. Claudine we want to wish you:
The Joy of Life that we experience in the land of the Rising Sun!
The Peace of Mind that can be if we allow God to be God in our lives!
The Health of Spirit that is ours in the daily dying to self that life may spring forth.
Thank you for making all this happen for us through your prayers and support! Please do continue…. The road seems long and perhaps impossible to walk alone… if there is any way in which you would like to be a concrete part of this project do let us know…. Please do write to us at:
CONVENT OF JESUS AND MARY,
BESITE, ULMERA, Dist: LIQUICA, TIMOR LESTE,
EMAIL: rjmtimorleste@gmail.com
Mobile: +670-78623009
Or find our bank details
Account Name: Religious of Jesus and Mary
Account No: 601-00-0067500-2
Swift Code: BMRIIDJA
Address: Bank Mandiri
Cabang Dili- Timor Leste AV Presidente Nicolau Lobato No. 12
Colmera Dili- Timor Leste
Phone: 670-3317777/ 73077777
Hope to hear from you…