With the great preparation by praying for each Province of our Congregation, the Generalate Community in Rome was happy to celebrate the Feast of St.Claudine Thévenet.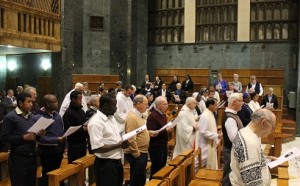 The General Government, the Community, the English speaking Tertains and the Religious Students of other Congregations who live with us, we all together experienced a great joy in celebrating this family feast in a unique way.  We began our day with the lauds and the festive day followed with great celebrations throughout the day, including a cup of coffee with all the helpers of our house, the climax of which was the Holy Eucharist in the evening.
We had invited our neighbouring Congregations, the Priests of our Parish and especially the Brothers of Sacred Heart. It was a great joy to welcome our guests who came in big number to our house to join us in this family feast.
The entire liturgy of the mass was prepared in such a beautiful manner that all appreciated the unity that was visible in spite of the diversity in language and culture. At the time of Doxology the Traditional Indian "Aarti" was performed. It is the highest form of praise and worship with fire, flowers and incense.
         The Eucharist was followed by the fellowship agape with all our friends. Everyone enjoyed this get together – meeting one another, introducing themselves and sharing the meal together.
Thus we can say that Claudine Thévenet has indeed been with us as an inspiration to reach out to many in our Apostolate here in Rome.
PRAISED FOREVER BE JESUS AND MARY