and support projects
This offers the possibility to reach places in need and to frontier situations by means of an international platform that will allow the friends of JM to express their solidarity by means of financial support in a Project of the Congregation.
The financial contributions will be used for the Project chosen by the donor and, administered according to the norms of Canon Law, of the Proper Law of the Congregation and of the Civil Law in force to that effect in the country in which the donation is given.
PayPal  
Some of our Projects
Support to the war victims in Syria;
Help to the Center of Human Development 'Lucia' in Cuba;
Rehabilitation Projects and Artistic-Handcraft Workshops in Haiti;
Educational Projects in needy regions of Africa, Asia and Latin America;
Development Projects in behalf of girls, boys and women of all countries in which we carry out our mission.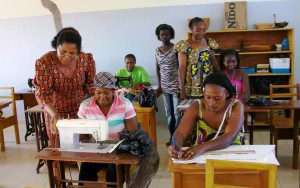 To obtain more information concerning the way of making concrete an economic support we invite you to visit the Web Sites of the Provinces, to contact the Religious of Jesus and Mary of the country with which you want to collaborate financially or address yourself to: