News
A journey full of opportunities as well as challenges

THE JOURNEY SO FAR…
DAY ONE
2nd October 2014, Rome
Thursday 2nd of October saw the beginning of the International Meeting of Formators with the theme "Formation for Mission as one apostolic body".
There are 34 participants in all including the Coordination Team, the General Government and our translator.  19 different countries are represented, each with its own richness and experience.  This enables us to embark on a journey full of opportunities as well as challenges.
        JUST LIKE MATRYOSHKAS…
The famous Russian matryoshka (nesting doll) inaugurated our meeting.  The very structure of this symbol provoked deep and meaningful reflection within us.
One doll, unique and unrepeatable, with her eyes wide open, harbours deep within herself another smaller doll with less defined features.  And so on, layer after layer, until we reach the smallest doll, without a face and without a body, like a seed which promises growth and new life.
Each one of us, accompanied by our own matryoshka doll, were touched to discover in this beautiful image the deep significance of our service as formators and the reflection of our own personal path of growth, of mission, of searching and of vocation.
        SR. MONICA JOSEPH'S (SUPERIOR GENERAL)
        WELCOME ADDRESS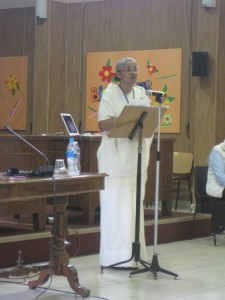 Deep, moving and affectionate were the words of welcome of our Sister Monica, who with great simplicity encouraged us to live the experience of this meeting with openness and inner freedom; to live it as an opportunity to grow and to share joys and challenges; to root ourselves even more firmly in Jesus as His disciples; to have, just as Claudine had, the courage to do something, no matter how small it may be; to remember that she herself began with just "one orphan, one loom and one woman", which with the passage of time, with the help of others and with a God who never fails us, continues to bear fruit through our charism which is still alive and dynamic.
Sr. Monica shared the objectives of this meeting. Then, Sister also encouraged us to discover in the midst of failure, disappointment, loneliness and difficulties the opportunity to grow and to place our hope in God.
We have begun and we have begun well with joy, in prayer and in community… called by Jesus who is the source of our life and vocation.